High Quality of Prescription Lenses in South Surrey / White Rock
Discover Quality Prescription Lenses from Leading Manufacturers
Tailored lenses – just for you
We dispense the highest quality spectacle lenses from the world's leading manufacturers including Essilor, Zeiss, Hoya and Nikon. We are independent from any supplier, and so our dispensing staff have the professional freedom to suggest and customise the most suitable lens for your prescription and lifestyle.
There is a huge variety of different lens types, materials, coatings, tints available now, so feel free to pick the brains of our knowledgeable dispensing staff. Come in for a chat to see what we can offer you!
1 HR Lab
Our On-site Edging Lab we can provide faster and quality delivery of glasses - often within 15 minutes! In addition, this means you don't have to be without your frames for 1-2 weeks whilst your new lenses are prepared.
Our in-house lab allows us to not only cut time, but also cut out the middle man and so we can deal directly with the wholesale lab. This gives us a lower cost which we are able to pass on to you!!
Broken your glasses?
We know how important glasses are to every-day life. So we'll fix them fast, and get them back to you as soon as possible - causing the least disruption to your everyday life.
Glasses repairs and lens replacements can make your favourite spectacles as good as new. Sometimes it's simply an adjustment/new screw/spare part and so often can repair your frames or sunglasses while you wait, but we may need to send your glasses away to get them fixed.
Our Warranty
Our eyewear and lenses come with a warranty, so you know your investment is safe from manufacturing defects.
We also have a generous non-adapt policy on your lenses, so if you have difficulty adapting to your lenses, within 60 days of purchase we will find a suitable alternative and replace your lenses at no extra charge.
When you collect your new spectacles, they will be verified to ensure that they are produced to the highest standards of accuracy, and the fitting adjusted to ensure the best comfort and the clearest vision. As a part of our complimentary aftercare we are happy to adjust, re-align or clean your glasses whenever needed so just pop in!




Advances in manufacturing and technology now provide a range of high definition digital progressives, computer vision lenses, anti-fatigue products, thinner & lighter than ever lenses, with coatings to protect harmful blue light, different products providing the best performance for even complicated and high prescription hence minimizing distortion and also thinner & lighter than ever before.
Our expert Dispensing staff will be able to advise you on the latest lens developments.
Progressive/Multifocal Lenses - A graduated lens giving clear vision at all distances now available with a ultra-wide channel [Digital HD & free form]
High Refractive Index Lenses - Lenses that are thinner and lighter than ever before.
Anti-Reflection coated Lenses - Reflection free lenses to improve your vision, reduce glare & enhance the appearance [also dust & smudge free]
Scratch Resistant Lenses - 3 layered hard coating that protects from scratches. Tougher & more durable than before.
Transitions Lenses - Change colour from totally clear indoors to dark brown/grey outdoors – protect your eyes from UV with the convenience of 1 pair
Polarised Lenses – Eliminates glare in intense sunlight. Ideal for driving or water/winter sports.
Occupational/Safety Lenses - Special lenses designed for Computer / Office use. Also impact resistant options for hazardous work conditions
Colours/Tints/Mirror/UV Coated Lenses - Different colour and density tints that can also be uniform or gradual. Protects eyes from harmful blue & UV rays.
Sports Lenses - Specialist eyewear for golf, tennis, skiing, and swimming etc.
We believe in sourcing products that are built to last. So, once you've invested in them, you can look forward to many years use. And of course, the more you care for them, the longer they'll last.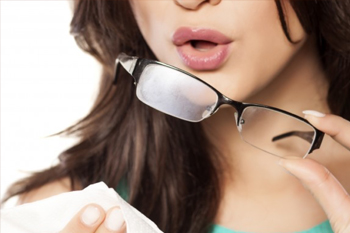 Show them some love
10 tips for keeping your glasses ship-shape:
Only use the soft microfibre cloth to clean the lenses. It's tempting to reach for a tissue or soft cloth, but even the softest tissues leave behind tiny fibres which can scratch your lenses. At Royal London Boutique, we provide a complimentary cloth with every purchase that can be washed and reused (avoid fabric softener when washing).
Always use both hands when putting your glasses on or off, and do not place your specs lens side down as this causes scratching.
Always store in a clean case when not in use. At Royal London, we provide you with a complimentary case with every eyeglass purchase.
If there are nose-pads on your lenses, clean these carefully with cotton bud wetted in lens cleaning solution for very stubborn dirt and debris.
It's best to use the correct cleaning solution for your lens. This avoids removing any special coating on the lens and will keep them lovely for longer. We have a variety of cleaning kits for the home, work or purse.
To clean your glasses, gently rub the lenses in a circular motion to wipe the cleaning solution across the surface of the lens.
Keep gently wiping until the solution has evaporated (this may take longer with non-alcoholic lens cleaning solutions).
Avoid solvents, petroleum-based cleaners as they can damage certain lenses. Remove your eyeglasses before using hairspray as it can damage the lens coating.
Don't leave your glasses exposed to extreme temperatures, sunlight and humidity such as in your car, as this can cause the frame & lenses to distort and, also damage the coating.
Don't forget, we're always on hand to give your glasses a complementary clean & adjustment – even if you haven't purchased them from us !! Our experts can fix a loose screw here, tighten a nose-pad there and return them to you - as good as new!
Drop in and see us.